2022
Lillian Garski
Ryan Huellen
2021
Sophia Tronolone
Abigail Williams
2020
Karina Los
Colin McAlpine
2019
Gabriele Eidukeviciute
Lily Hicks
2018
Luc Bressett
Kiara Roe
2017
Jack Bressett
Sofia Kroll
2016
Rachel Rosch
2014
Lindsay Light
Jane Elder
2013
Matthew Hutchings
Caitlin Boni
2012
Tommy Breen
Ashley Miskiewicz
2011
Andres Garcia
Grace Hartwig
2010
Patrick Zito
Jessica Gronset
2009
Travis Weber
Andrew Siles
2008
Amanda Listak
Ryan Seiter
Sarah Pettigrew
2007
Ashley Howe
Robert Clanton
Ellen Smialek
2006
James Kreher
Dena Tarosas
Brien Spoden
2005
Dena Nord
Erica Zamudio
Robert Schellenberg
2004
Mike Karls
Milly Bedell
2003
Tessa Parker
Colleen Cassidy
2002
Geneva Hillard
Erin Strand
Amy VonBergen
Katherine Wilford
David Walters
Joshua Cummins
Dane Erbach
2001
Kristine Elizabeth Sedivec
Jared Moon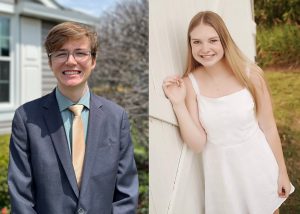 Cary-Grove High School Students Awarded Chamber Scholarships
The Cary-Grove Area Chamber of Commerce recently awarded two $2,000 business scholarships to local students at the Cary-Grove High School on Wednesday, May 11.  The awards are intended to encourage area students to pursue college interests that might impact local business. Over the years, the Chamber has given away more than $52,000 in scholarship awards to local high school students who are pursuing business related studies.  The Chamber is proud to make this investment in our local youth who may someday become future business professionals and owners right in our community. We specifically look for students that may want to bring their skills back to the Cary-Grove area.
The class of 2022 high school recipients each received a $2,000 scholarship for college. The scholarships were awarded to Lillian Garski and Ryan Huellen.  Lillian will be attending the University of Illinois in the fall and majoring in Marketing.  She aspires to work in a marketing department of a business based in Chicago and become involved in the community. Ryan will be attending Iowa State University and majoring in Computer Science and aspires to open his own business.  Both students were extremely involved during their four years at Cary-Grove High School and Prairie Ridge High School at the both their school and within the community.
Thank you to the Cary-Grove Chamber Scholarship Committee; Committee Chairperson – Neil Williams of NWS Home Advisors/@properties, David Miller of Lake Julian Contracting Inc., Dr. Pete Lovato of Northern Illinois Foot and Ankle Specialist, Ltd., Dr. Steven Bashor of Malooley Chiropractic, Joan Van Allen of Edward Jones, Lori Feuerhelm of True Value Manufacturing/Paint Plus Hardware and Michael Snodgrass of Cardunal Office Supply a division of Warehouse Direct.