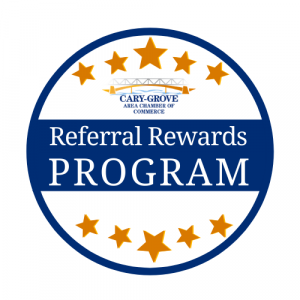 The Cary-Grove Area Chamber of Commerce is excited to announce a new referral rewards program aimed at continuing to strengthen the organization.
The Referral Rewards program aims to reward members who play an active role in helping the Chamber grow its membership, understanding the importance in contributing to the Cary-Grove Area community and enhancing member businesses.
For every new Chamber member that a member organization refers, they will receive a $50.00 credit toward the next renewal of their membership dues. Referral rewards will always be applied to future dues. The new member must put the referring business on their membership application and pay their membership dues in full.
Details:
Credits will be applied directly to the referring members account as a credit towards membership dues

Current Chamber members, or any employees of current members, can participate in this program

Rewards are limited to your membership value and must be used within the same calendar year

If the referral is submitted more than once, the Chamber will honor the first referring party only

You must submit the referral before the prospect becomes a new member or they must list you on the application form as referrer

If the referral is re-joining, them must have not been a member for at least one year

One full year of membership dues must be paid by the referred member